Tinkatolli Traders



Found in:

Main Trader:

Species:
Tinkatolli Traders are tinkas who come to the islands who trade with other tinkas. They usually want junk and organic items and trade them for rare items. The Traders have been around since the beginning of Tinkatolli Beta, trading with Tinkas. Traders are usually found in places like Stinkatolli, Sundunia, Canopia, Junkatolli and Tinkertown
Trader Tinker (the orginal trader) changes costumes during special events. So far he has changed to Spooky Trader, the Halloween Trader. He may or may not change costumes with Easter or Christmas.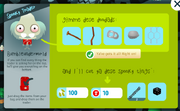 To trade, you need to click on the Trader and drag the items out of your bag to the picture. In result, the Trader should give you the items. Make sure you have been given the items, if you haven't email Pennie at pennie@tinkatolli.com
Known Traders
Edit
Ad blocker interference detected!
Wikia is a free-to-use site that makes money from advertising. We have a modified experience for viewers using ad blockers

Wikia is not accessible if you've made further modifications. Remove the custom ad blocker rule(s) and the page will load as expected.